Our values are integral to our role as a company that helps to meet a basic human requirement: nourishment.
Karim Bitar, Chief Executive
We are one team, dedicated to helping customers thrive. We anticipate their needs and help them seize opportunities, acting as partners to improve quality, efficiency and output. If we're not adding value for our customers, we stop and think again.
Case study – Transforming our customers' fertility performance
We know that efficiently producing high genetic quality pregnancies drives herd profitability, and that customers' goals and production systems vary.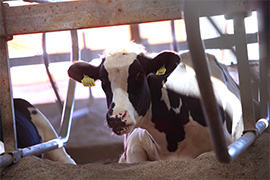 Our Reproductive Management System ('RMS') team therefore optimises customers' herd pregnancies by providing tailored solutions based on sound science, training and vast field experience.
In the UK and Ireland, RMS has grown rapidly to service 686 farms, with nearly 170,000 cows or 10% of the national herd. The service is provided by 131 technicians, nine leaders and eight RMS trainers, supported by a technical services team.
Our unique combination of skilled people, accurate data and standardised working has transformed fertility performance. The average pregnancy rate for UK and Ireland RMS customers'  herds is 18%, well above the national average of 14%.  RMS has also hugely influenced herd expansion and our customers' businesses. For example, we have worked with Bowe Dairy Farming Company as a breeding company and farm consultants since 1998. Since then, the business has grown from 80 to 600 cows. RMS has been an integral support to the business since 2007, helping the company achieve a pregnancy rate of 24%.
We are proactive, determined to be the best we can be and to exceed expectations. We redefine standards for ourselves, our customers and our industry. Every one of us takes pride in delivering the highest level of performance. If something can be improved, we find a simpler, better way to do it.
Case study – Helping customers to benefit from our genetic improvements
Genus PIC's Genetic Services team works with more than 150 customers around the world.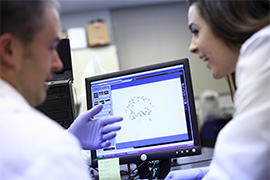 It ensures customers understand the value that genetic improvement brings, helps them to optimise their use of our genetics, and encourages them to multiply our genetics quickly, so they can rapidly realise the benefits. Finally, the team manages on-farm implementation of our genetic programme in our customers' herds.
Our commitment to delivering results for customers is evident in Genetic Services's approach to hiring and training its people. In the last two years alone, the team has added five highly talented PhD geneticists from Asia, Europe, North America and Latin America. This focus on quality helps Genetic Services achieve notable results, with the rate of genetic improvement in North American boar studs doubling in 2013, compared with the three previous years.
We are an innovative, forward-thinking company. We have the courage and confidence to explore new ideas and the energy and enthusiasm to deliver them. We are creative, tenacious and resourceful in every area of our work.
Case study – Pioneering improved genetics in India
BG Chitale is the largest dairy processor in the Maharashtra region of India, which has a population of 112 million. The company has a passion for making Indian dairy farmers more productive, through technology and the best genetics.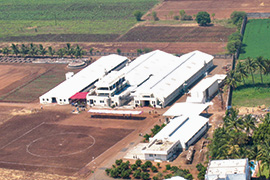 "The US achieves 10,000 litres of milk per cow but India is at about 2,000 litres," explains Vishvas Chitale, CEO, BG Chitale. "We have around 50,000 farmers supplying us with milk. If we can reduce the number of animals they need, they will remain in business and get better returns. And fewer cows means lower greenhouse gas emissions and a greener world."
To do this, BG Chitale is focused on improving genetics and operates one of India's few private artificial insemination studs. For the last three years, it has worked with Genus to increase annual semen production from 200,000 to 1.8 million units. "We need a partner who can help us improve animal productivity through the best genetics," says Vishvas. "It was a natural choice to go with the best in the field."
Our strategy is to deliver value-added and differentiated products for India. We have created a pipeline of new bulls by importing embryos from North America, with the first bull ('Pioneer') born in August 2012. We have also genomically tested several young bulls – a first for the Indian dairy industry.
We are a business rooted in science but built around our people. We inspire, challenge and support everyone to perform, develop and grow. We treat others with respect and we invite views and feedback to help us improve.
Case study – Developing skilled and capable people
Apex is our newest porcine genetic nucleus facility, located in South Dakota, US. Construction began in 2008 and Apex produced its first litter the following year.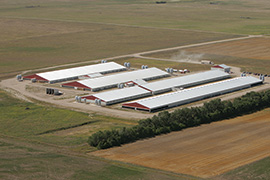 The team now includes 55 full-time employees, making us the largest employer in an area where jobs are highly valued. Around 40% of the team are female.
At such an important facility, it is essential that we have well-trained and capable people. Training begins immediately, with new staff completing eight hours of orientation in their first two days. This covers health and safety, bio-security, animal welfare and a full site tour.
Staff then spend their first month shadowing colleagues, so they can learn the processes and become proficient. During this time, they complete a further three hours of orientation, covering areas such as our Genus University and other online resources. Our successful approach has allowed us to fill all our departmental head positions with local people, who joined us with limited industry experience and who we have developed to take on management roles. The team has built up deep expertise in running this centre of elite porcine genetics, setting world-class standards that are the pride of the business and the industry.
We are ethical to our core. We feel a deep sense of responsibility to our customers, colleagues, animals, communities and shareholders. We are honest, reliable and trustworthy. We mean what we say and do what we say.
Case study – Providing the highest standards of care
Our animals are our business, so we take excellent care of them.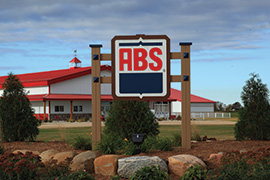 The housing at our bull stud facility in Dekorra, Wisconsin, is designed to provide the best animal welfare and protect our employees' safety.
The barns are globally qualified, so they meet the highest standards for international trade, animal health and bio-security.
Side-curtain ventilation allows maximum air flow and the animals are freely housed in individual pens, giving them the greatest freedom of movement. We clean and rebed the pens three times a week. All feed is grown in fields free from animal waste and we store the feed securely, eliminating bio-security threats from wildlife.
The livestock workers at Dekorra average 27 years of service and the facilities are led by Darel Smith, who has worked for ABS for more than 30 years. To protect their well-being, we provide continuous training in safety, including bull handling, working in confined spaces and first responder training.
arrow