Genus helps farmers to produce high-quality meat and milk more efficiently and sustainably. We do this by continuously producing and delivering better genetics to them.
1
Increasing Genetic Control and Product Differentiation
To maintain and enhance our product leadership.
We do this by using the latest technology to continuously improve our own herds, investing in new technology to strengthen our capabilities, and protecting our unique position by choosing how to deploy our genes and technology.
What does success look like?
Creating better breeding animals for farmers, measured against proprietary and public indices weighted towards economic traits that help farmers operate more efficiently and sustainably.
How do we measure this success?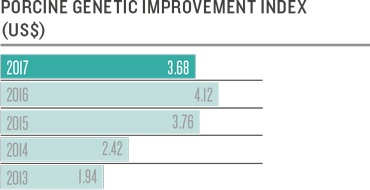 Measures the genetic gain we achieve in our porcine nucleus herds.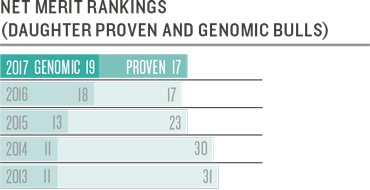 Monitors our success in developing bulls that are highly ranked, because of their genetic performance and economic merit.
Definition
The index measures the marginal economic value improvement in customers' US$ profitability, per commercial pig per year, on a rolling three-year average. Prior years' index ratings have been updated, to reflect the latest results from genomic selection and the economic values of pork production.
Definition
The number of our generally available Holstein bulls listed in the top 100 Net Merit US$ rankings for progeny tested and the top 100 Genomic Net Merit rankings for genomically tested sires.
Performance
Implementing genomic selection technology in 2013 led to a step change in genetic gain value improvement in recent years and has delivered a further improvement of US$3.68 per pig, per annum, in 2017.
Performance
Genus maintained a competitive industry line-up. We have continued to strengthen our position in the Holstein genomic bull category while also maintaining our position in proven bulls.
2
Targeting Key Markets and Segments
To deliver the right offering for the right customers
We target leading global and regional meat and milk producers, and offer them our superior breeding animals, semen and embryos, together with technical services, tailored to their needs.
What does success look like?
Growing volumes, particularly with large commercial dairies and integrated meat producers who focus heavily on the efficiency and sustainability of their production systems.
How do we measure this success?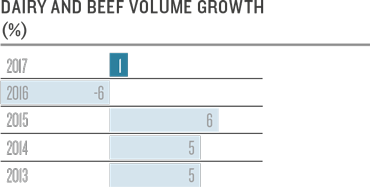 Tracks our global unit sales growth in dairy and beef.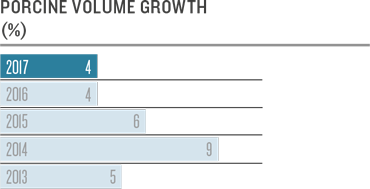 Tracks the growth in the number of pigs with PIC genetics globally.
Definition
The change in dairy, beef and sorted units of semen and embryos delivered or produced for customers in the year.
Definition
The change in volume of both direct and royalty animal sales, using a standardised MPEs measure of the slaughter animals that contain our genetics.
Performance
Bovine volumes returned to growth, improving by 1% to 17.7 million units in varying markets. Europe grew 6% as dairy markets improved and Asia grew 7% driven by India. However, the North America (-5%) and Latin America (-2%) markets remained challenging.
Performance
Volumes grew 4% to 139 million MPEs, with very strong double-digit growth in Asia from our China and Vietnam businesses and continued royalty volume growth across all regions. Volumes of upfront animals, where MPEs are counted at the time of initial sale, declined as planned.
3
Sharing in the Value Delivered
To capture an appropriate share of the value we deliver to customers, aligning our interests with theirs
We do this by demonstrating the value of our genetics through trials and data, and by linking our pricing to genetic indices and our customers' productivity.
What does success look like?
Generating profit resulting from the superior quality and performance of our products in customer's systems.
How do we measure this success?


Monitors porcine profitability by unit.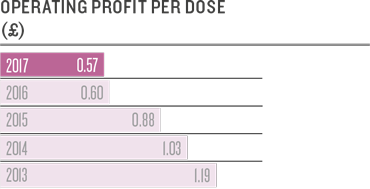 Monitors bovine profitability by unit.
Definition
Net porcine adjusted operating profit globally, expressed per MPE. Results include our share of Agroceres PIC, our Brazilian joint venture.
Definition
Net dairy and beef adjusted operating profit globally, expressed per dose of semen or embryo delivered. Excludes India, as its characteristics are substantially different to the rest of our bovine business and the start up costs of our GSS manufacturing.
Performance
Operating profit per MPE was £0.61, up £0.10, helped by strong growth in our China porcine business, beneficial exchange rates and higher royalty volumes across all sales regions.
Performance
Operating profit per dose was £0.57, down £0.03. Challenging dairy markets, particularly in North America and Asia, held back operating profit growth in our sales regions. Initiatives to improve profitability include growing our presence with large Enterprise dairies, expanding IVF services and launching Sexcel.
arrow