Challenge: To 'nourish the world' and meet growing demand for animal proteins from a growing global population
Among the challenges facing our food production systems today, climate change will likely have a significant impact - with increasing drought, heat extremes, wildfires, and floods threatening to undo the progress made in combating global hunger and food security.
These unpredictable events can impact regional food production, decreasing the productivity of some regions or increasing the risk of animal diseases in others. It is vital therefore, that technologies to ensure animal health and adaptability, offering resilience to climate change impacts, are prioritised within national agricultural strategies and by producers wishing to ensure the resilience and productivity of their animals.
Healthier animals are more productive and generate lower emissions per weight of product.
FAO "Animal Health and Climate Change" 2020
Sustainable food production and the 'technification' of farms
Genus believes that animal breeding offers producers the ability to increase the supply of affordable, nutritious food, with less GHG emissions, without loss of biodiversity, and degradation of soil health.
Progressive farmers understand that future progress can be achieved by breaking the link between increasing farm inputs and outputs, by applying 'optimal' strategies for breeding and innovations such as 'sexed' semen and 'beef on dairy', which reduces the number of 'unwanted' animals.
Benefiting from reduced feed, housing, water-use, waste, veterinary costs and anti-microbial medicines, farmers and producers using our technologies not only benefit directly from reduced production costs (per kilo of milk or meat) but are able to account for, and report the reduction in turn to their own customers. 
According to the US Department of Agriculture, whilst the US dairy herd has not significantly increased in size over the last half decade, its milk output has increased by around 8.5 million tonnes3 . If the methods and genetics in the US dairy herd were replicated throughout the world, today's level of milk output could be achieved with 200 million fewer cows - almost a 75% reduction.
3 Source: https://www.ers.usda.gov/
As farms become more consolidated and 'technified', farmers have started to measure their herd performance and its inputs of feed, water and other resources in greater detail. They understand the benefits of breeding genetically superior animals in reducing use of these resources and seek optimised breeding strategies, such as combining the use of sexed semen and beef-on-dairy semen in the artificial insemination of dairy herds to maximise their profit.
Consolidation of elite breeding herds
Farmers also know that elite breeding bulls and pigs are bred from genetically elite herds. The increasing investment and scale required to keep pace with the genetic improvement of industry leaders is driving the consolidation of these breeding herds.
The graphic below shows how the US herd size has decreased by around 1 million cows since the 1960s, but the milk productivity has increased from 60 million tonnes to 100 million tonnes.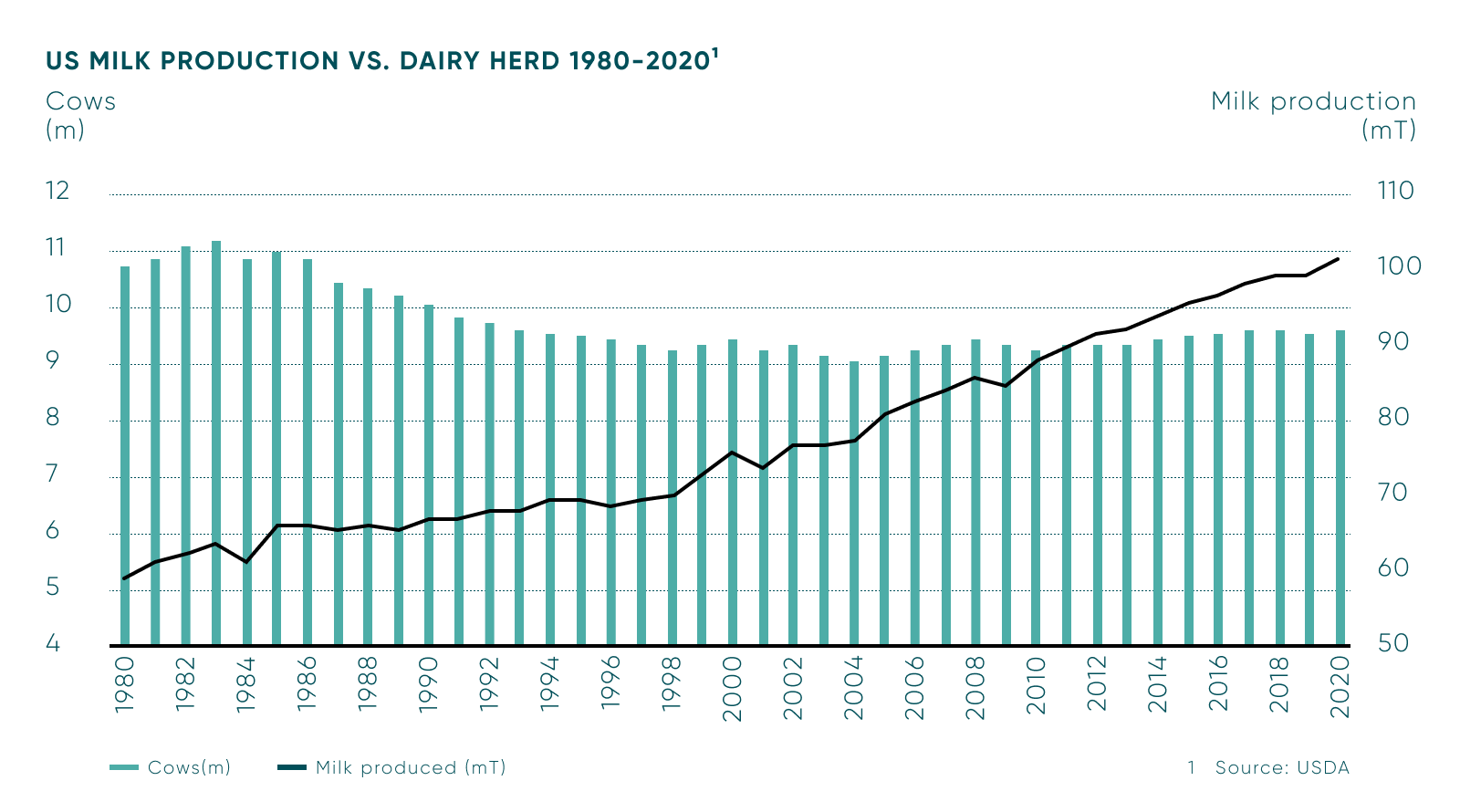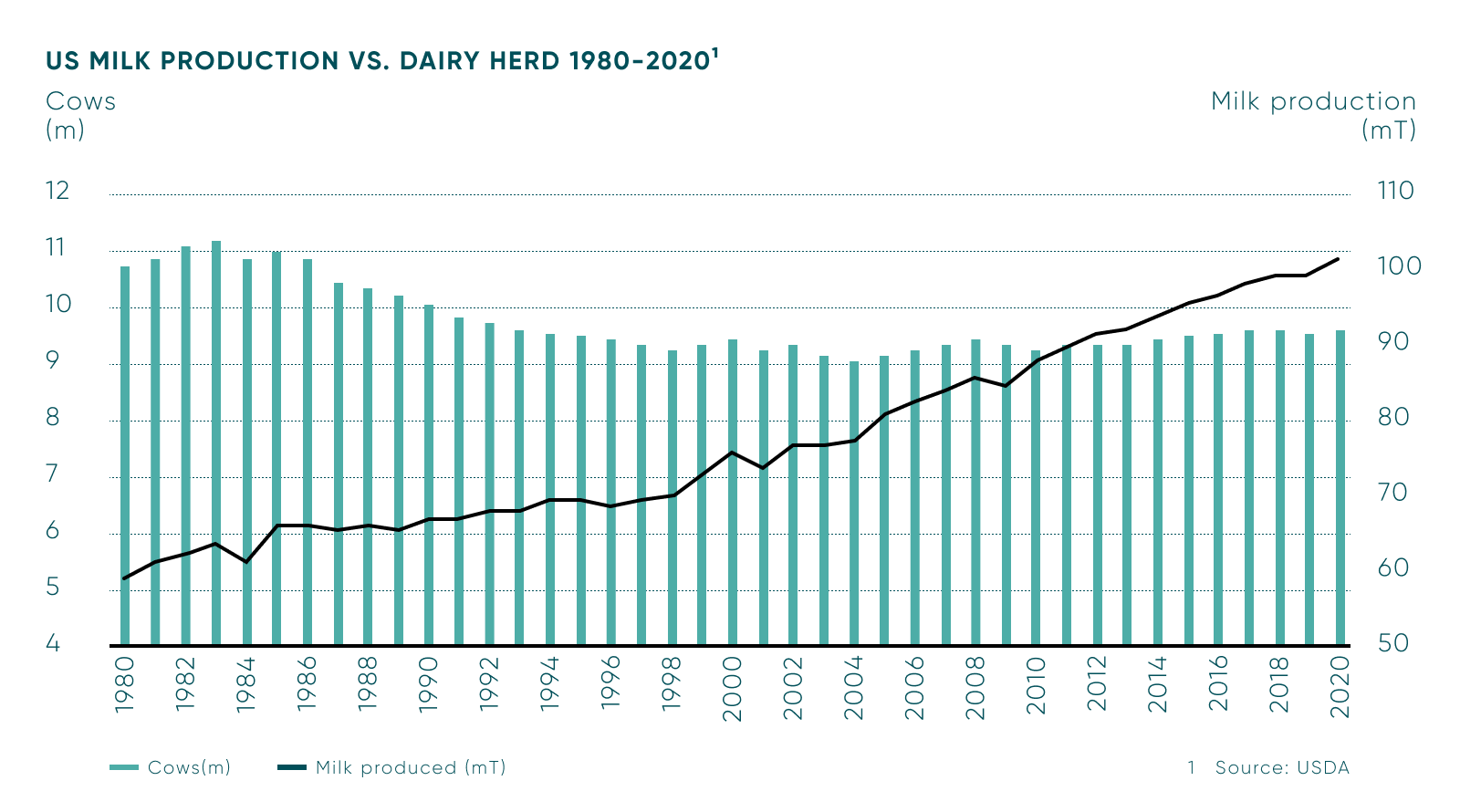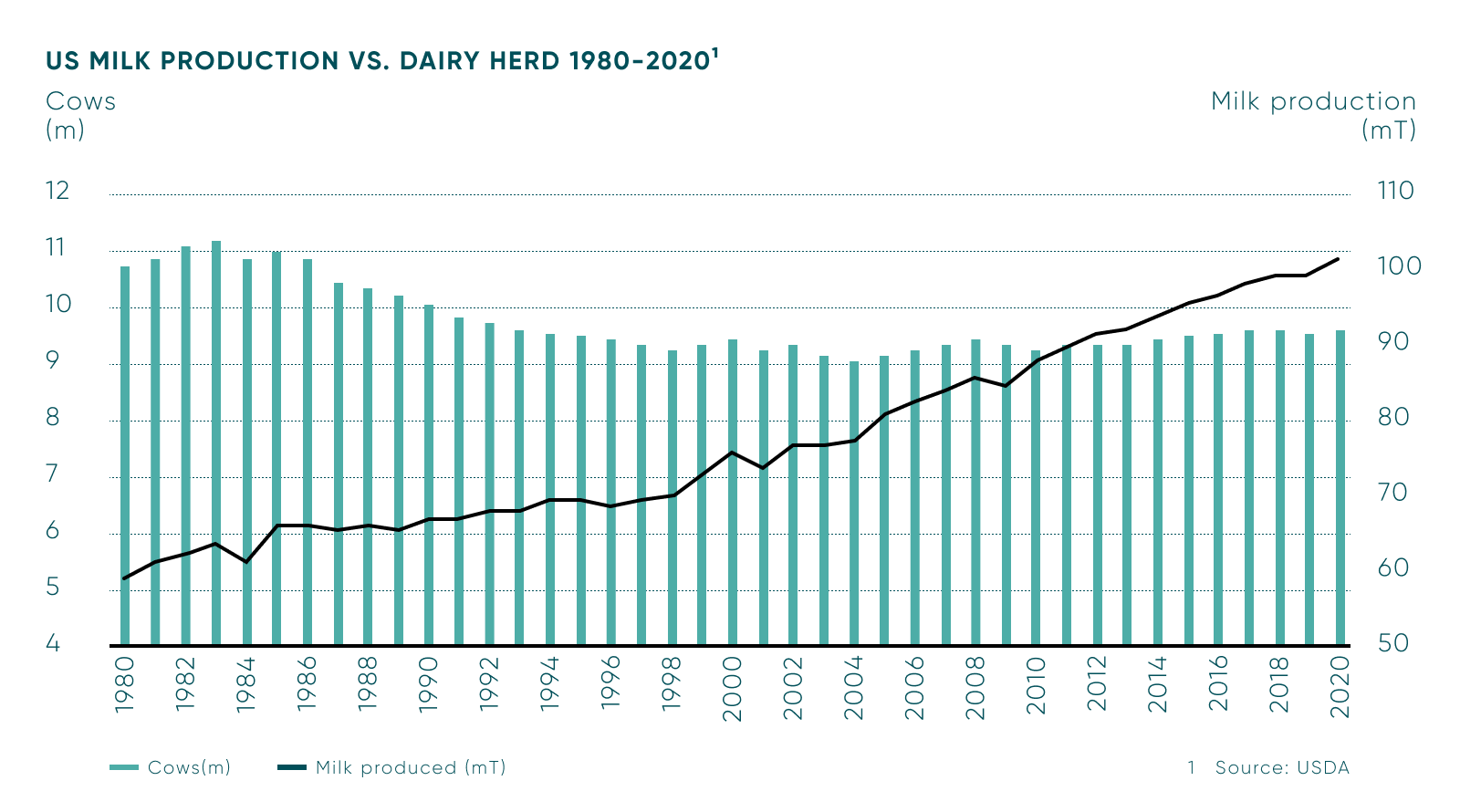 Adoption of sexed semen/beef-on-dairy artificial insemination for reduced 'life-cycle' carbon emissions.
All cows must become pregnant in order to produce milk, and can only do this for a limited time before they lose fertility and are replaced. The chances of a female dairy 'replacement' from the use of a conventional straw of semen are around 50% - this means that any male offspring born into a dairy herd were often of little value.
Genus has pioneered commercial-scale use of 'sexed semen' and 'beef-on-dairy' in dairy herds, which uses sexed high quality bovine genetics to produce female offspring, so dairy farmers are able to replace older lower quality cows in their milking herd with newer, higher-quality heifers without the carbon cost of unwanted bulls. In combination with sexed semen, Genus offers elite beef genetics, specifically designed for use with the remaining portion of the dairy herd.  Pregnancies from beef-on-dairy semen ensures the ongoing productivity of the milking herd and provides the farmer with a valuable beef animal, creating an improved return for the farmer from every pregnancy.
Breakthrough gene editing and digital technologies
Genus is developing innovative solutions to improve health and animal welfare, and to combat disease. These solutions include data and health-focused breeding indices to select the most resilient breeding animals, alongside gene-editing and other advanced reproductive technologies. Progressive farmers are also now making greater use of digital technologies, which provide vital data and insight to support their decision making.
Our FY24 goals
Continue driving porcine and bovine genetic improvement and rapidly disseminate the genetics to customers globally by:
(i) increasing porcine genetic improvement index by 0.75 standard deviation1 per generation
(ii) increasing dairy genetic improvement index by one standard deviation1 per generation
(iii) increasing beef genetic improvement index by one standard deviation1 per generation
Using LCA to quantify the potential reduction of GHG emissions from the use of PIC genetics and PRRSv-resistant pigs.
Using LCA to quantify the benefits and reduction of GHG emissions from the use of T14 beef cattle.
Working on projects to understand the common causes of early death on US beef feedlots, and the impact of genetic selection.
Working with Innovate UK and SRUC to examine the impact of genetics and the micro-biome in T14 and T15 beef cattle to drive reductions of GHG emissions.
arrow